Internet of Things technology is becoming increasingly prevalent throughout homes and businesses alike. Industrial settings are using interconnected devices in numerous applications, including those described below.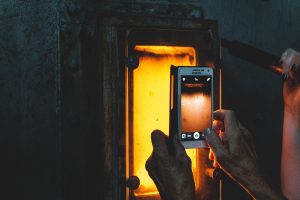 1. Predictive maintenance
One major application of IoT technology in facilities has been in predictive maintenance. Predictive maintenance (PDM) uses various sensors, cameras, and other devices to collect real-time data from facility equipment. That data is transmitted to a central software system, which analyzes the data and predicts future issues.
The advantages of IoT in PdM include streamlined maintenance processes, improved equipment health, and fewer unplanned production downtimes. It offers improved cost savings over time-based preventive maintenance since maintenance work is only performed on an as-needed basis.
Tip: Implementing PdM with IoT sensors offer significant cost savings, but make sure to balance those savings against the initial investment. It's best to
start with your most critical assets
, then expand from there.
Industries using this IoT tech
Manufacturing
Construction
Healthcare
Fleet management
Oil and gas
Food and beverage
Power and energy
2. Sensors and metering
Aside from predictive maintenance, IoT enables companies to keep a closer eye on the performance of their equipment. Meters and sensors send constant information around the clock to a centralized system, allowing technicians, operators, and other personnel to keep a close eye on their operations.
For example, in a food processing plant, temperature control is a major priority. Smart meters send consistent readings on temperature controlled areas and assets, allowing operators to make sure they stay at acceptable levels. If temperatures move outside established boundaries, personnel will be notified instantly.
Another example involves refueling stations. Smart sensors can be used to monitor fuel levels and consumption, all while measuring the quality of the fuel in each tank. If moisture levels or contaminants reach certain levels, sensors alert operations and maintenance crews to the need for cleaning and/or repairs.
Industries using this IoT tech
Restaurants and hospitality
Agriculture and farming
Healthcare
Oil and gas
Home and vehicle
Food processing and packing
Retail
Fleet management
3. Building management
Buildings rely on energy to function, and IoT devices play a key role in keeping an eye on that energy usage. They also help maintain security and safety.
Smart meters are frequently used in managing heating, cooling, and ventilation (HVAC) systems in buildings. They not only offer readings on the total energy used by a system, but also when that energy is used, allowing building managers to plan energy usage based on the actual needs of the facility.
Many devices also allow facility managers to establish specific limits on when heating and cooling systems should run, how much heating and cooling is needed at any given time, etc. The end result is better energy efficiency and lower building management costs.
Industries using this IoT tech
Offices and commercial buildings
Government
Education
Construction
Manufacturing
Churches and places of worship
Restaurants and hospitality
Oil and gas
Property management
4. Mileage tracking
Any organization that has its own fleet vehicles can benefit from mileage tracking. Vehicles need specific types of maintenance at specific intervals, and mileage trackers can be used to trigger maintenance work orders whenever specific thresholds are reached. Data is updated in real time and sent to the organization's central software system, allowing personnel to keep an eye on each vehicle.
This way, each of the following tasks can be completed on time:
Oil changes
Filter changes
Fluid level checks and other inspections
Battery checks and replacements
Brake pad repair and replacement
Mechanical upkeep
By performing each of these tasks at the right mileage count, companies can keep their vehicles in top working condition for longer.
Industries using this IoT tech
Fleet management
Shipping
Transportation services
Government
Law enforcement and public safety
Education
5. Fleet tracking
Mileage tracking is just one aspect of fleet management. A multitude of other metrics should be closely monitored in order to keep a fleet operating in good condition and at minimal cost.
Among these metrics are:
Driver behaviors
Vehicle location
Fuel levels and usage
Engine condition and performance
This data allows fleet managers to keep watch over the condition of each vehicle in real time and monitor driver behaviors, including braking, speeding, routes taken, and so forth. It aids in condition monitoring, allowing companies to keep their vehicles in peak operating shape.
It also helps fleets meet deadlines more easily. For instance, if a truck has to stop somewhere unexpectedly due to mechanical problems, IoT technology makes it easy to schedule a different truck to continue the route.
Industries using this IoT tech
Fleet management
Shipping
Public transportation
Public safety and law enforcement
Government
Education
6. Asset tracking
Manufacturers and other industries know the importance of keeping a close eye on their key assets, particularly mobile assets. The location and status of vehicles, products, and other assets can be closely monitored through the use of IoT technology such as GPS, Wi-Fi, and Bluetooth tech.
By using real-time tracking on key assets, companies are better able to improve logistical planning, supply chain management, and quality control. Vehicles, containers, and so forth can all be closely monitored to make sure they arrive at their destinations intact and on time.
Industries using this IoT tech
Manufacturing
Shipping and hauling
Food and beverage
Oil and gas
Fleet management
Warehousing and storage
Retail
7. Inventory management
Any organization that has to manage inventory can benefit from applying IoT technology to their inventory and supply chain management processes. For instance, using a barcode system to give each item an RFID tag can help an organization track the movements of product and tools around their facility. Whenever an item is scanned, that data is sent to the cloud for easy access and analysis.
With this technology, organizations are better able to track down lost inventory, replenish supplies, and make needed materials more readily accessible.
Industries using this IoT tech
Manufacturing
Shipping and hauling
Retail
Food and beverage
Warehousing and storage
Construction
Pair IoT technology with a world class CMMS
In order to be truly useful, the data provided through IoT technology needs to be accessible. For maintenance teams, important data on assets, workflow processes, and inventory can be accessed through a CMMS. Pairing IoT with a CMMS—such as UpKeep—helps facilitate the following:
Sensor integration
A CMMS acts as an excellent central system for sensor data from each asset. Data streamed from condition monitoring sensors can be examined over time, analyzed, and used to trigger PdM work orders automatically.
Asset management
Tracking assets is easy with the use of CMMS software. Keep an eye on meter readings, monitor the status of individual assets, and track maintenance tasks all from one centralized system.
Inventory management
When used to manage your MRO inventory, your CMMS will give you quick access to stock counts on individual replacement parts. It also makes it easy for maintenance technicians to get the parts and materials they need to complete work orders, and it can even be used to implement barcoding for inventory items.
Facility management
Whether you're managing a factory, a hospital, a gym, or any other facility, a CMMS can help you track data from numerous IoT devices and prioritize facility maintenance tasks. Take advantage of real-time insights to inform maintenance planning and cut down operational costs.
Tip: For more on how UpKeep can be used with IoT devices in your facility,
schedule a demo
!
Key Takeaway
In conclusion, IoT technology has numerous applications in a wide variety of industries. Various tools, such as a CMMS, can supplement the use of this technology to streamline your operations, inventory management, and maintenance processes.