The consumer products goods (CPG) industry is changing because of who customers are, how they shop, and what they want. In addition, the food segment of CPG will face special challenges in coming years. For manufacturers and distributors, this will require keeping a closer eye on the market and meeting customers as they evolve. Here's a snapshot look at what the future will hold.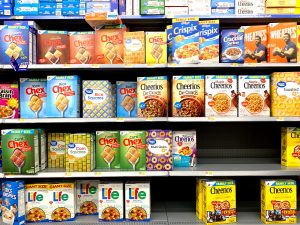 The consumer products goods (CPG) industry is rapidly changing the way customers buy products. One size doesn't always fit all - CPG products like cereal could one day be customized for the individual consumer.
Who Customers Are
During the next two decades, the demographics of the world population will shift significantly. According to projections from the United Nations, one in five people will be elderly in North America by 2030. The total population of those over the age of 65 will reach 1 billion.
In addition, the U.S. Census Bureau shows that the majority of U.S. children will be non-white by 2023. The younger consumer market will be concentrated in particular markets as well.
How They Shop
The movement toward direct-to-consumer distribution has already started with more companies starting their own e-commerce platforms. New CPG companies are at least using platforms such as Amazon to move their products, if not their own site.
More and more consumers are turning to personal recommendations from friends and family through social media. Individuals rely more heavily on third-party reviews than on promotional material from companies. This will require sophisticated business analytics tools to help understand the market and how it changes from year to year.
What They Want
Consumers are demanding more not only in terms of the products and services they want, but also in how they are manufactured. In addition, CPG customers will demand more of the companies themselves, as well government regulators, especially in the food sector.
1. Customized Products
The trend toward customization has already started with technology providing the means to customize small batch, or even single products. More and more companies are offering premium products that are completely unique from external packaging to internal ingredients. According to Deloitte, roughly 20 percent of consumers are willing to pay 20 percent more in order to customize their products. With heightened demands for customized products, manufacturing facility managers should use inventory control to keep closer track of the items going in and out of the facility.
2. Increased Transparency and Sustainability
Within the millennial market, how products are produced is just as valuable as what is produced. These consumers demand better transparency into the inner workings of the companies they support. They expect that businesses will move toward biodegradable packaging and production methods that leave a smaller carbon footprint.
3. Branding and Corporate Citizenship
Along the same lines, many consumers want the companies they support to make a positive difference in the world. This can be somewhat challenging, as CPG companies will have to have an accurate understanding of their primary markets. Not only will firms need to know what products and services consumers prefer, but also what causes they value.
Special Considerations for Food Industry
The segment of the CPG market that provides food products to consumers will face special considerations in the future. Recently, the Food and Drug Administration (FDA) issued its Food Safety Modernization Act, which is designed to prevent food-borne illnesses instead of issuing recalls.
To comply with these standards, food manufacturers will want to implement preventive maintenance tools to help monitor product quality. Additionally, more CPG companies will be seeking predictive maintenance systems that can alert management of problems more quickly and reliably.
Conclusion
The bottom line is that the CPG industry has already changed in recent years and will continue to evolve. Businesses operating in this space should pay special attention the shifting demographics and continued movement toward e-commerce. They must be aware of how these demographics operate, understand their customers' values. By doing so, companies can capture and maintain customer loyalty for the long term.