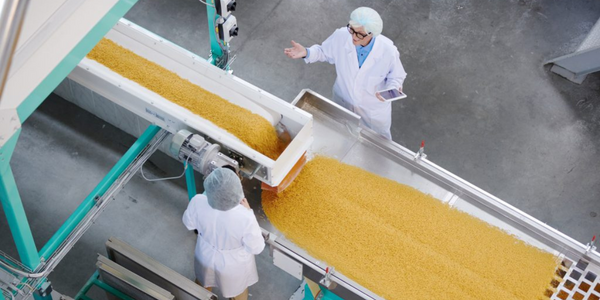 A food safety program is critical for helping food manufacturing companies monitor and eliminate all the activities that can cause contamination issues. Best practices include identifying critical control points (CCPs), establishing standard operating procedures, and selecting a hazard analysis critical control point (HACCP) model.
What Is a CCP?
A CCP is a moment during a production process where an equipment failure or human error could cause food contamination, resulting in customer illness or damage to the business itself.
CCPs are times when a particular control or check can be implemented that can prevent a food safety hazard from occurring. This may include eliminating the possibility of contamination through cooking temperatures, reducing the chance of microbial growth through storage procedures, or minimizing cross-exposure through sanitation processes.
The most common CCPs within food safety are in the cooling and heating of ingredients, where products must pass through a temperature zone that can encourage pathogen growth. It's critical that food and ingredients during the cooking stages do not remain in those danger zones for longer than a pre-established period of time.
What Is HACCP?
An HACCP program is a preventive, systematic effort to manage food safety and quality control. Essentially, such a program pinpoints potential dangers within the production process that can cause food safety issues, particularly in regards to microbial control.
Established in 1971, the HACCP program was originally developed for NASA in order to provide safe food for astronauts. Instead of simply checking final food products for dangerous levels of contamination, an HACCP program is designed to ensure that the food processing procedure is completely safe.
When this model was later used in food service, it not only looked at microbial issues, but also considered the nutrition of the food and its sensory quality.
Prerequisites for an HACCP Program
Several different institutions have created a list of important components that HACCP programs should encompass. According to the Iowa State University HACCP Information Center, food manufacturing companies may want to establish the following programs and procedures before setting up an HACCP program.
Set up standard operating procedures for sanitation program

Establish a quality management initiative

Have employee education and training in place

Create personal hygiene program

Train team on safe food handling and storage practices

Monitor temperatures throughout processing and storage

Establish specifications and educate suppliers

Create plans for food recalls or other disasters

Set up equipment monitoring and calibration processes

Implement preventive maintenance programs

Define integrated pest management systems
Principles of an HACCP Program
By 1992, the National Advisory Committee on Microbiological Criteria for Foods established the following major principles in establishing an HACCP program.
Run an initial hazard analysis program

Define CCPs within the process

Set critical limits

Create monitoring processes and procedures

Define corrective actions

Set up appropriate verification processes

Establish documentation and record-keeping processes
The most important part of this process is to look closely at the flow of raw ingredients in food products throughout the manufacturing process and identify the CCPs where potential contamination may occur.
Many governing bodies require that food manufacturing companies have an HACCP program in place.
HACCP System Examples
Several CCPs are common within the food manufacturing industry. They include temperature management, sanitation issues, and equipment maintenance.
Monitoring Food Temperature
Many CCPs within food manufacturing have to do with temperature. As large quantities of ingredients are moved from freezers to refrigerators, through the cooking process, and back into refrigerators or freezers, food passes through dangerous temperature zones multiple times.
One of the most common food safety risks occurs when food manufacturing companies place deep containers of hot foods into refrigerators. These large containers often do not reach safe temperatures quickly enough, and they also heat the rest of the surrounding food.
Once this type of CCP is identified, the manufacturing companies can implement important changes. For example, hot foods can be placed in shallow pans in order to cool faster, and blast chillers can be used.
In addition, food manufacturing companies can ensure that they are using sophisticated thermometers that are properly calibrated. A wide variety of specialized thermometers are now available for accurate temperature measurement. Different models are designed for ovens, deep fryers, and coffee as well as coolers, refrigerators, and freezers. A wide range of sensor technologies are also available, so that important equipment such as refrigerators and freezers can be monitored around-the-clock. When temperatures fall into a danger zone, sensors can send alerts to a maintenance supervisor immediately.
It's important that detailed records be kept when making changes such as these to ensure that the contamination risks have been adequately mitigated.
Sanitation Issues
Another area that can be a CCP for food manufacturing companies is the need to maintain a high level of cleanliness and sanitation on a constant basis. It's important to understand that cleanliness means that an area is free of dirt and organic matter. However, just because a piece of equipment or an area is clean, it doesn't mean it's sanitary. Sanitation requires the application of heat or chemicals that result in reducing microorganisms that can spread disease.
The original layout of the facility should take into account how easy equipment can be cleaned. Different processing equipment, fixtures, and stations should be arranged in a way that makes cleaning and sanitation accessible and complete. Trash and garbage containers should be placed far away from processing equipment.
Other factors that can affect the cleaning process include types of dirt that may be present, hardness of water used, and the temperature of the cleaning water. In addition, some surfaces may require specialized cleaning processes and tools, additional agitation or pressure, and longer exposure to chemicals that would expedite the cleaning and sanitation process.
The most common types of cleaners that are used in food manufacturing facilities are:
Detergents that remove dirt from floors, walls, counters and equipment.

Abrasive cleaners that have abrasive agents to remove more difficult dirt.

Degreasers that remove grease from ovens, grills, and hoods.

Delimers that remove mineral deposits from dishmachines and steam wells.
Using sanitation chemicals brings its own set of unique challenges. Many of these chemicals can be toxic to humans as well as to pathogens and must only be used for non-food contact areas. Some nontoxic sanitation chemicals may leave unpleasant flavor odors that can be transferred to food products, and so, are inappropriate for food manufacturing applications. Typically, chlorine, iodine, and ammonia are used most commonly in food-related industries.
Dock and receiving areas require special sanitation considerations as these areas tend to attract rodents and pests in addition to dirt and debris from trucks and the outdoors. All ingredients and finished products should be stored off the floor or on pallets to promote easy and frequent floor washing. Ideally, the floors, walls, and equipment in the receiving areas are nonporous and designed to be easily and frequently cleaned and sanitized.
Equipment Maintenance
Food manufacturing companies should also consider the selection and maintenance of their assets and equipment in a HACCP-based program. Facilities, machines, and equipment that are poorly designed can affect the effectiveness of cleaning and sanitization.
Companies should ensure that equipment carries the NSF International mark or certifications from Underwriters Laboratories (UL). Both of these organizations have established more than 75 standards for hundreds of models of food-related equipment. With more than 120 years of experience evaluating food-related equipment, the UL awards safety and sanitation certificates for equipment as well as energy-efficiency evaluations. NSF food equipment standards consider what materials the equipment is constructed from to ensure:
That machines do not leach harmful chemicals into food.
How the equipment is designed and built and whether it's easy to clean and unlikely to harbor bacteria.
Overall product performance.
NSF also conducts audits of production facilities that make equipment to ensure solid manufacturing practices.
Once the proper equipment is selected, it's critical for food manufacturing companies to establish a consistent preventive maintenance program. Such a program keeps equipment and facilities in good condition and should include regular cleaning schedules, preventive tasks, and corrective tasks related to equipment and facilities.
Depending on the facility, some cleaning tasks may be performed daily while others are done less frequently. Certain pieces of equipment should be serviced based on time or usage while other equipment may only be repaired as needed. Food manufacturing companies must have the proper tools, equipment, and cleaning supplies on hand to complete preventive maintenance tasks efficiently, completely, and on schedule.
By using a computerized maintenance management system (CMMS), food manufacturing companies can plan, schedule, and execute the work orders required to keep all equipment in good working order. This master system should include tasks that need to be done, bringing up the day's work for the maintenance team and providing instructions, checklists, and photos to expedite the work.
A CMMS can also allow a maintenance manager to track what work has been completed by which technicians as well as record any long-standing issues or ongoing repairs that may indicate a need for new equipment. This system can also collect historic information about equipment, track warranty data, and generate reports and analyses to facilitate better long-term decision making for the company.
Best Practices for Creating Standard Operating Procedures (SOPs)
According to the USDA, food safety operating procedures should include the following components:
Food Safety Checklist. Every food manufacturing company should establish a food safety checklist unique to their organization. Employees should be accountable for completing certain procedures at each station or on a specific product line.
Cooking Process Procedures

. Since this is the most common area where food safety hazards can be introduced, it's important to outline cooking processes in detail. Food manufacturers should establish SOPs for no-cook products, complex food offerings, and potentially hazardous foods.

Sanitation Process

. Both cleaning and sanitation procedures should be clearly outlined for each piece of equipment or work surface area. This can also extend to food processing equipment maintenance and cleaning processes. Cross-contamination issues should be studied and addressed.

Storage Precautions

. In addition to cooking procedures, how hot food is cooled quickly is another critical control point. SOPs that define how food is to be cooled, stored, refrigerated, or frozen are critical. In addition, the amount of hot food placed in a cooling unit plays a role in how quickly the products can be cooled.

Complaints and Recalls

. SOPs should extend to after food products are released in the market. Procedures on how to handle customer complaints of illness as well as managing recalls throughout the distribution network should be well-established and tested.

Employee Hygiene

. Any manufacturing process that requires individuals to handle food should have an extensive employee hygiene SOP outlined. This can include hand-washing procedures, use of protective gear such as gloves and hair nets, and safety training in operating equipment.

Food Transportation

. Establishing SOPs related to accepting deliveries of raw foodstuff ingredients, how they are transported to appropriate storage areas, and how delivery of final food products are handled are also important to minimizing food safety hazards.

Equipment, Chemicals, and Maintenance

. Food manufacturing companies should have SOPs that apply to equipment and chemicals used to maintain the machinery used in food production. This may include the storage and use of toxic chemicals, the preventive maintenance requirements for calibrating thermometers, and the management of safety sensor systems.
Government Regulation and Audits
Government agencies at the national, state, and city level take food safety very seriously. In addition, many industry and trade associations are also promoting high food safety standards and quality control.
These organizations often conduct external audits as well as promote internal auditing practices for food manufacturing companies. Many state and local governments have established various public health service codes to set the standard in terms of food handling and sanitation practices. The FDA has also created a food code to support local health departments to establish inspection programs, which usually occur once or twice a year.
In some areas, evaluating food-based companies against HACCP principles have become the new standard within health department inspections. Food manufacturing companies that have CMMS solutions in place can often generate data quickly to meet audit information requirements. Ideally, the data from a CMMS assists a company in completing regular internal audits, so that their standards are higher than those of the government agencies.
Are you a food and beverage manufacturer that has considered a CMMS to help with your food safety practices? If so, we've created a guide just for you. Click the banner below to check out our CMMS Buyer's Guide for Food and Beverage Manufacturers!