What are 7 trending technologies in the restaurant industry?
Trending technologies in the restaurant industry include point of service kiosks, online ordering portals, and computerized maintenance management systems. Technology in the restaurant industry isn't front and center. That's reserved for the food. But how the food gets to people today is much different than it did twenty years ago. Here are a few trending technologies in the restaurant industry today:
Point of service kiosks
Food safety
Online ordering
Loyalty programs and rewards
Computerized maintenance management systems
Employee scheduling software
Online loyalty programs and rewards
There is a technology solution for each of the above items and many more. Let's take a look at a few of them and how technology is present.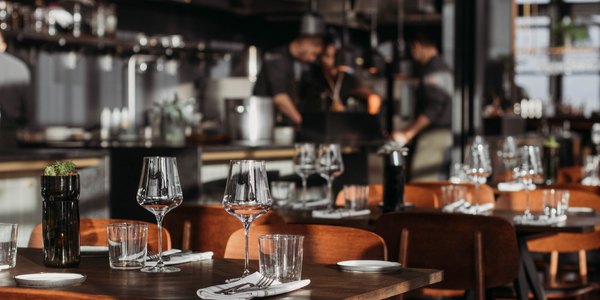 7 Examples of Trending Restaurant Technologies
1. Point of Service Kiosks
These are perhaps the most commonly observed and experienced form of technology in restaurants today. POS kiosks are the automated ordering stations you might find in various restaurants. Your order is places on a tablet, where it is electronically sent to restaurant workers to prepare your order.
2. Food Safety
While the technology behind food safety is usually not top of mind, it is only continuing to improve and be at the forefront. Smart refrigerators, ovens, and other kitchen devices are all working behind the scenes to keep us all safe.
3. Online Ordering
Most people today have ordered directly from a restaurant's website. However, the interfaces and services are continuously improving, making it an up and coming technology.These portals handle sensitive information, such as location, credit card numbers, and scheduling information. They can either provide a seamless, fun experience or become a major security breach, depending on the total productivity of the system
4. Loyalty Programs and Rewards
These are very similar to the technology that drives online ordering. However, it's worth remembering just how recent this ability is.
5. Computerized Maintenance Management Systems
Finally, computerized maintenance management systems or CMMS software keeps track of all the restaurant activity. A top CMMS software can keep track of restaurant inventory, as well as inform maintenance management when equipment needs scheduled repair.
6. Employee scheduling software
Whether this task is slightly or fully automated, computers can make mistakes if they are not given the right data set. Add in the unpredictability of people into the equation and you may get a failure. Add the right data and everything goes smoothly.
7. Online loyalty programs and rewards
Similarly to online ordering, loyalty programs and rewards need to tread a fine line between productive and spammy. Too many offers are just as bad as not enough and your program or software needs to take this into account.
Want to keep reading?
Good choice. Here are some similar articles!
Restaurant POS Checklist: How to Choose a Restaurant POS System
Adding a POS to your establishment will expand what you and your staff can offer your diners.
Top 10 Benefits of Using Restaurant POS Software
In this article, we'll explore the top 10 benefits of using restaurant POS software in your business.
GET STARTED
Sign up for a personalized tour today.
Information is 100% secure.