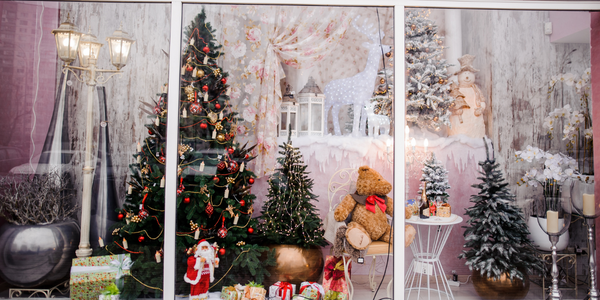 Updating displays with concise messaging, as well as effective scheduling around peak hours, are key to having a successful storefront during the holidays.
Forecasts for holiday retail sales in 2019 reached a whopping $1.1 trillion! That's a growth of around to 5% compared to the previous year. Massive expectations on this seasonal uplift call for equally extensive preparations. Two areas that require special attention are maintaining a visually appealing storefront, as well as having the workforce to keep up with the demand.
What are some design ideas for storefront displays?
They say that a good first impression can work wonders. That's why it helps to have a great-looking window display.
You can never go wrong by sticking to the basics – a clean, updated display that gets your company's story across. Make your messages short and easy to read. Avoid using signs that might send a negative message to your customers. Instead, foster an environment that makes customers want to come in and try something out.
For the more adventurous, you might want to add some excitement and flair to your window displays. Surprise your customers by going with something a little different. Bold shapes and bright vibrant colors never fail to get the attention of onlookers and passersby.
Do I need more workers for the holidays?
In 2018, the National Retail Federation expected retailers to hire up to 650,000 temporary workers just for the holidays! The busy days of the year, particularly during the holidays, statistically do require more staff. Chances are, you need additional workers to help out during these times. Without enough workers during these days, you might be putting the satisfaction of your customers at great risk.
How should I schedule my staff for the holidays?
The first thing to remember is that staffing preparations should be done weeks, if not months, before the peak season. Your workers should have the right training and experience even before you dive into the holidays. Bringing in new people too late can actually decrease your productivity instead of increasing it.
With competent people in place, the next big step is effective scheduling. For starters, it helps to give your employees self-scheduling options. Considering your employees' preferences and availability helps build stronger commitment and overall relationships. Incentivizing shifts that you're finding hard to fill can also help to boost your team's morale.
Additionally, schedule preventive maintenance tasks in advance, with staff members equipped with the right background and experiences. Avoid the pitfalls of emergency maintenance on the day of the big holiday shopping event, so that you can focus on what matters most -- meeting the needs of customers.
Tip:
Consider using a
CMMS
to schedule preventive maintenance tasks in your storefront.
Overall, paying close attention to your storefront's appearance, as well as taking precautions to staff up effectively, ensure that you will meet consumer demands and exceed expectations this holiday season.