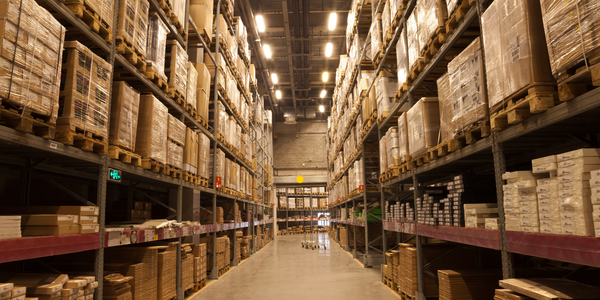 The best ways to organize your warehouse involve wise layout design, management software, and labeling systems. Better systems involve starting changes that make sense. And great systems work for everybody concerned while not slowing down or stopping production. These three areas can fill every single one of these needs.

Warehouse organization can often feel like an ongoing struggle, one that could be frequently stalled by management for multiple reasons. For example, an emergency maintenance situation might come up, or you are busy fulfilling customer orders. However, taking the time to consider organization processes and warehouse logistics can yield tremendous results.
Well-organized, tidy warehouses make the entire process of receiving items, moving them to the proper locations, and shipping them to customers easy and efficient.
Let's take a look at these three areas and how warehouses of all sorts and sizes can leverage better layouts, implement inexpensive management solutions, and label systems that work over long periods of time.
Physical layout design 101
Optimizing the physical layout design of your warehouse can increase efficiency and improve overall organization. Let's take a look at all the different aspects of the physical layout design in a warehouse and how companies can use this knowledge to improve their way out, regardless of the situation that they are in.
Before we get started, it's important to note that a rebuild may be necessary in a few cases. However, this isn't usually the case although it is the default option. Make sure it's completely necessary before any major renovations are embarked on!
Prioritize safety
Safety needs to come first. Start with clear-cut issues, such as obvious floor and shelve hazards. Be sure you have stable infrastructure and trained employees before anything else!
Next, consider systems such as stackable bins and shipping stations that can make the physical space in your warehouse more secure and usable. Keep the warehouse clean and store like items together. Finally, try to minimize the actions required to conduct daily tasks throughout the warehouse.
This is pretty general advice. What some people may be able to start from this, others may need more. In order to fill that need, let's take a look at some more direct ways that you can impact your physical layout design in a positive way with a minimal level of involvement.
Create and update your floor plans
One of the fastest ways to improve a warehouse is to create and use a detailed floor plan. This enables you to see how you want to move forward from that point.
For example, a floor plan may show you that your employees tend to walk back and forth a lot. An updated floor plan can reorganize those areas and create better space usage versus bottlenecks of employee activity and wasted time.
Some easy ways to start this process include:
Define your objectives.
If you don't know what you want your warehouse and your employees to do, it won't get done. People aren't mind readers and communication is key. Well-defined objectives create order and harmony out of chaos.
Consider using the 80/20 rule.
This rule states that 80% of the effort only impacts 20% of the total work and vice versa. Depending on your situation, it may be better to focus on the 20% of the work that creates 80% of the efforts and settle for those goals. is it worth pushing your team to get 20 extra percent on top of 80 if it means that more than twice as much work will need to be done?
Make sure to group items that make sense to your employees. This may not make sense to an outside observer, such as mixing kitchen and bedroom items together, but if it cuts down on inefficient time, it makes sense for the warehouse.
This last point moves into considering your shelves and storage territory. What makes sense for your warehouse, your shelves and storage areas, and your needs?
Considering your shelves and storage
Shelves and storage systems tend to grow beyond their original purposes. What once was a perfectly functional useful shelf unit becomes an overflow station and a mess of clutter given enough time.
In addition, different sections of the warehouse may shift into different uses. The shells that were originally installed or the storage units being used may not be ideal for the new purposes. While focusing on your layout can solve some of this problem and/or highlight the issue, considering your shelves and storage should be a separate category.
This leads directly into the next section, which concerns the flow of your warehouse.
Focus on flow
The flow of a warehouse is basically how items and people move through it. Do they flow in a logical, cohesive way or is it a very choppy process? Most people work better when there is a good sense of flow through buildings and warehouses in particular. Some ways to easily improve your flow have already been covered, such as considering your floor plan, shelves, and storage.
However, if those are considered in a vacuum, flow can still falter. Why?
The short answer is that humans don't flow by our very nature! Unless there is a steady, firm infrastructure in place to assist with flow, it won't happen. Some common trouble spots include:
Entrances and exits, especially if they are the same door or hallway

Timeclocks and punchcards

Awkward corners or areas that lend themselves to confusion and distraction

Organization "best practices" that simply do not fit your needs

Lack of training that hampers new employees from knowing where to go and what to do

And much more.
When you focus on the flow of your warehouse, these problems become apparent. Once you know what you're dealing with, you can focus on the troubled spots in question instead of implementing strategies that may or may not work for you and your particular needs.
Keeping a warehouse running smoothly is an ongoing task. Some of the things that can help the most are periodic maintenance and scheduled inspections. What are some best practices in these areas?
Regular maintenance and periodic inspections
Maintenance is one of those things that lives in the background and only becomes apparent when it's not getting done. When things are going well, it's easy to skip on common maintenance tasks because they don't appear to be needed. When things are going badly, it's common to overreact and spend a lot of employees on a reactive response to the problem.
This is not a good solution. It leads to systemic problems that infect many different areas of your warehouse overtime and compound as the years go by. This kind of neglect is the major reason behind most complete overhauls. How can you avoid it?
While it's not the easiest thing to do, the best way to avoid an overwhelming amount of maintenance in the future is to schedule regular maintenance and periodic inspections without fail. It's really as simple as that.
This may seem an impossible task. It's not. The short answer to this conundrum is a software management system for your warehouse. These handy systems cut down the time needed to organize, compartmentalize, observe, and otherwise stop problems before they start.
When used in conjunction with modern-day label strategies, scheduling maintenance and periodic inspections have never been easier.
All about software solutions for warehouses
According to the Logistics Bureau, about 85 percent of distribution centers had implemented some sort of warehouse software by 2015. This means that a wide range of technology solutions are available today to help companies better manage warehouses of all sorts.
Some common solutions include:
Computerized maintenance management software

Work order software

And more
Systems that offer integrated inventory management can go a long way in helping to collect, store, and organize data about the quantity and location of inventory items. This is important because understanding what items are in stock, where they are located, and when reorders are needed is critical to managing an organized warehouse.
These software systems can also help sequence the order of selecting items by the most efficient path or grouping items together to help companies better organize their workflow. Here's how each one of these solutions does that and in what warehouses they work best.
Inventory management software
Inventory management software, as its name indicates, is focused primarily on your inventory, where it is, what it does, and where it needs to go next. In many cases, they leverage barcodes and other forms of labeling in order to track everything in a centralized software base.
What sets inventory management systems apart from other software solutions is that they focus solely on Inventory management. A computerized maintenance management software package or an Enterprise management solution focuses on much wider areas. If inventory is your main bottleneck, this type of software may be just right for you.
If you need to integrate your inventory management with a wider system, this software may use the Internet of Things and a CMMS system in order to bring an even more integrated solution to typical warehouse problems. In these cases, they are generally part of a larger system such as an enterprise management software, which we will cover next.
Computerized maintenance management software
A computerized maintenance management system, also called a CMMS, is a central database for all things maintenance that have happened, will happen, or are happening. Its primary assistance in a warehouse that needs organization is that it cuts down on paperwork, particularly documentation paperwork.
Another way to think about it is that a CMMS, at a very basic level, is a data management solution. It's very good at organizing company data into usable formats that provide research-driven solutions to a variety of problems.
If your warehouse is integrated into a larger system, this may be the solution for you.
Enterprise management software
Enterprise management software systems are the next level after computerized maintenance management software. These massive, often custom solutions are meant to help govern every aspect of your company, from the raw materials to the final follow-up with your client.
Because this type of software is so far-reaching, it only indirectly affects warehouses insofar as they are a part of a wider scope. If the focus is only on warehouse organization and optimization, inventory management software or work order software may be a much better fit, depending on your needs.
Work order software
Similar to inventory management software, work order software focuses primarily on work orders of all sorts. There's not much else to say about it. Because it is highly specialized, it's perfect for small or middle-sized warehouses that deal in lots of different work orders in a very short space of time and not much else.
It may also be suitable in pre-existing infrastructure that needs a boost but otherwise is good for years to come.
Labeling systems and how they work
The last part of organizing your warehouse is your labeling system. The world has moved far beyond simple paper or even printed labels. Barcoding technology, RFID tags and the Internet of Things have advanced in capabilities and dropped in price in recent years, making it easier than ever to label assets and inventory items.
Handheld devices enable employees to quickly skin tens to hundreds of labels in a short. Of time as they walk through your warehouse. These devices can instantly upload information to your central database, keeping your inventory records up to date to the minute. Depending on the inventory in question, this can make a huge amount of difference!
By tagging items upon arrival and scanning codes into a centralized computer system, warehouse management can easily track how those items are moving through the warehouse, into production or usage, or through to a final product or disposal. It is also much easier to collect data on what is moving quickly and what is not. This data can positively impact your company in ways such as inventory management, employee management, and more.
On the other hand, if a warehouse is still using manual labels such as printed, paper, or hand-edited labeling systems, they will be left behind at some point in time.
While it's a big commitment to switch to a more automated system, it will be well worth the investment. If your system is due for an update, make sure that your new system for your warehouse and its organization allows you to use modern labeling conveniences in some capacity. If on the other hand, your labeling system is up to date, you are halfway to a more organized warehouse already!
Organize your warehouse to meet your needs
The difference between an organized warehouse and a warehouse that is struggling is the difference between law and order. While that may seem slightly overrated, it's true! People work better in organized settings, and a warehouse is a prime example of this behavior.
That being said, every warehouse is different. Some may benefit more from a work order software system, while others need the structure of an enterprise management system. It's very difficult to determine what any given companies' needs are without studying them in detail.
However, the general principles remain the same. Which ones apply do you? How will you move into the future of inventory management in your warehouse? Are you managing multiple warehouses that all need to interface together? Is a change in your immediate future, or will you be making small changes over long periods of time? Whatever your warehouse organizational needs are, we wish you the very best of luck moving forward.