Facilities maintenance technicians help keep a building, plant, or complex up and running smoothly. They take care of all those things people take for granted such as a cool office in summer, a working computer, a clean restroom, and a shoveled walkway.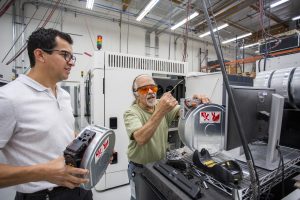 Responsibilities
The responsibilities of a facilities maintenance technician can vary a great deal, depending on the business, size of facility, and training and background of the technician. For instance, a small plant may have one jack-of-all-trades taking care of janitorial duties, supply management, and basic repairs.
On the other hand, a multi-million dollar corporation with facilities around the world may have hundreds of maintenance technicians who perform single specialties such as all HVAC maintenance, comprehensive landscaping, or handling janitorial duties at each location.
Many facilities maintenance technicians also complete work orders throughout the day. These may include repair requests on equipment, preventive maintenance tasks, and inspections. Some technicians spend their day going from one facilities "fire" to the next as they handle emergency calls and repairs.
Tip:
Read about 3 easy steps to improve your facility maintenance resumer
here
.
Areas of Expertise
Facilities Equipment
Technicians who work within a plant or facility must keep manufacturing or production equipment up and running. This may include repairs, inspections, cleaning, and routine maintenance on different machines according to a particular schedule.
Building Maintenance
Maintenance technicians working for an office building or apartment complex spend their days on the upkeep of the buildings. This includes responding to tenant work orders, cleaning and repairing items in common areas, and landscaping duties.
Outdoor Facilities
In some cases, facilities maintenance technicians handle all the exterior maintenance such as repairs and work related to buildings, outdoor structures, walking ways, and landscaping. Irrigation and tree care may also fall under the technician's responsibilities.
Conclusion
I believe facilities maintenance technicians have an amazing opportunity to learn and grow in their careers. They can select the areas they are most interested in and become highly demanded experts. In addition, those who are more experienced have the chance to train younger technicians or move into management roles down the road.
Tip:
It's never too late to continue your education! Check out the 9 best online facility management courses
here
.