If you're still using pen and paper to manage your maintenance workflow, your equipment manuals and warranties should be highly organized and stored in a safe place. If you have made the wise transition to using a CMMS or other type of maintenance management platform, then your equipment manuals, warranties, and more can be stored directly in the system.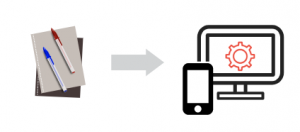 Without a CMMS
If you haven't gone paperless, you better have a good filing system. That filing system needs to be both accessible and secure. You need to make sure anything taken out of any drawer or shelf is returned, and it needs to be safeguarded from accidents.
At the same time, paper files should be made available to those who plan and perform maintenance tasks. In most cases, this will mean a lot of back-and-forth between worksites and your document storage. You'll want your filing system to be centrally located for that reason.
With a CMMS
Of course, I'd recommend a more modern approach. Most equipment manuals and warranties are available in PDF format, meaning you can store them in an electronic database. There are many ways to do this, but again, it needs to be secure while also being accessible.
A CMMS is a great way to organize user manuals and warranties by asset. Simply upload these documents to the asset's page in your program, and they're ready to view by anyone with access. When used in conjunction with a connected mobile app, a CMMS allows maintenance technicians to access manuals while on site.
Tip:
UpKeep is one of the many CMMS softwares for maintenance and facilities looking to better manage their maintenance workflow. If you're interested in starting a free trial, click
here
.
Benefits of a CMMS
Also, consider these other benefits of using asset management software to store your warranties and manuals:
Web-based CMMS safeguards all uploaded documents from loss. If your server or hard drive goes down, they'll still be available online.
Warranty information is easily accessed through a computer or app, allowing you to see what's covered while viewing a specific asset.
Maintenance planning and scheduling is simpler since there's no need to rifle through drawers or shelves.
Your manuals take up less space. None, in fact, if you go with a cloud-based program.
Maintenance technicians can be more efficient since there's no need to provide them with physical operation manuals. Schedule compliance improves.
Digital document storage, particularly one that's integrated with maintenance management software, is by far the most efficient way to store your equipment documents.
Note: Switching over to a CMMS will require you to train your maintenance staff in its use, but it can streamline your maintenance operations significantly in the long-run.