Though the cost of a computerized maintenance management system (CMMS) ranges depending on your needs, a CMMS is a significant investment for any company. Many CMMS providers, as well as industry trade publications, will praise the benefits of a CMMS. However, the key question for most potential customers revolves around the bottom line cost of such an implementation. In this article, we'll take a look at the costs, benefits, selection process and options to help you make the best decision for your organization.
What is a CMMS?
A CMMS is a computerized system that stores and manages a wealth of maintenance-related data for a company. A business enters information regarding assets, inventory, and maintenance history into the system. Scheduled work orders can be generated to address reactive or preventive maintenance tasks. Maintenance technicians then use data from a CMMS to complete their jobs. Once work orders are completed, technicians enter tasks, concerns, and future needs. Maintenance managers then have transparency into the entire maintenance department and its activities. This allows management to make faster, better overall business decisions.
Most of the time, business growth dictates the time to invest in CMMS. You notice that you can no longer adequately track information with paper or with a simple spreadsheet. You expand and require mobile access to your data or need to integrate your data into other systems. These are all signs that it's a good time to make the CMMS investment.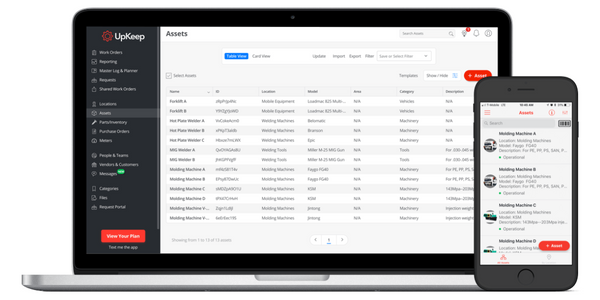 With UpKeep's CMMS platform, you can manage your assets and team from your office or on the go using a smartphone or web browser.
Five Ways a CMMS Helps Business
A CMMS can help businesses operate more efficiently, manage resources better, streamline communication, increase profits, and improve customer satisfaction.
Operate More Efficiently
Because a CMMS collects and manages maintenance information centrally, companies can operate more efficiently. For example, a maintenance professional can enter preventive maintenance schedules into a CMMS once. When time or condition requirements are met, the CMMS can automatically trigger a work order so that maintenance is performed on time. As a result, emergency repairs and production downtime are typically minimized.
Manage Resources Better
One frustrating thing for technicians is not having the correct tools or supplies to complete a job. A CMMS not only manages work orders, but also can provide tracking and ordering of tools and supplies. Let's say consumable items, such as janitorial supplies, or service items, such as lubricants, reach a pre-set threshold. The CMMS can be programmed to generate an automatic order before you completely run out. In addition, the system can help you locate and track supplies and tools, minimizing lost items and unnecessarily reorders.
Streamline Communications
Gone are the days of sticky notes, e-mails, and voice messages to pass along maintenance details. A CMMS helps put all this communication in one place, so that all who require data will have it at their fingertips. If maintenance technicians notice, say, excessive vibration even after regular service, they can enter that into the CMMS. Either a senior technician can send a work order or a management alert, triggering the needed action for resolution.
Increase Profits
All of the items discussed so far have the added benefit of affecting a business' bottom line. Emergency repairs are almost always more costly than preventive maintenance. Technicians are pulled from jobs, premium shipping may be incurred to get needed parts quickly, and production lines may stop. Too much or not enough inventory carries a cost. Lost or misplaced repair tools require time and money to replace. Miscommunication can halt jobs, result in incomplete work, or oversights. By addressing all of these issues and more through a CMMS, you can easily reduce your costs and improve your profit margin.
Improve Customer Satisfaction
Whether you maintain an apartment complex or manage a production line, a CMMS will help you serve customers better. Better data means faster, smarter business decisions. That results in prompt service, faster shipment, and more responsive problem resolution. All of those things will help you improve your relationships with your customers. Happy customers are loyal customers, and loyal customers mean a steady stream of business.
How to Pick the Right CMMS for Your Company
By now you may be convinced that investing in a CMMS is the right decision for your organization or business. Now what? Dozens of companies offer CMMS solutions. However, sorting through the options can be daunting. Here are the top features you should be considering before you make your choice.
Work Order Management
Perhaps the top use of a CMMS is managing work orders. Maintenance schedules based on manufacturer recommendations can be entered into a CMMS. Companies can enter unique maintenance tasks based on usage, time, or condition as well. Work orders are then generated, assigned, tracked and completed within the CMMS seamlessly.
Preventive Maintenance
A CMMS can help you implement an effective preventive maintenance program as well. Taking care of critical assets will not only reduce downtime and emergency repairs but will also lengthen your equipment's lifespan.
Asset Management
Tool kits or repair equipment that travel with your technicians into the field can be challenging to track. A CMMS can help you organize, manage, maintain and locate all those key assets. For example, when technicians head out to a call, they can scan the tool kit they are taking with them. Management can see the location of that asset as well as who is using it with the click of a button. If equipment must be serviced, the CMMS can automatically prohibit releasing that equipment until it is repaired. Asset tracking also protects businesses from theft.
Inventory Management
Technicians require particular tools or maintenance items to complete their work. When supplies reach a low, predetermined threshold, a CMMS can automatically trigger a reorder. This ensure that materials will always be on hand. It can give management a heads-up if a supplier is out of stock, giving you time to procure items elsewhere.
Maintenance Reports
A CMMS can generate custom reports for management to take a birds' eye view of the organization. By studying trends, maintenance repair records, and costs, managers can make better, smarter decisions that will benefit the company in the long run.
Mobile Application
Today's CMMS must offer a mobile application, which can increase efficiency significantly throughout your organization. Technicians have the background and maintenance history at their fingertips before completing a work order. Hours, work completed, and problems identified are all updated real-time with a mobile arm of CMMS.
Vendor Management
Many businesses today rely on many outside vendors and contractors to perform aspects of their work. Contracts, payment agreements, and outside work orders can be integrated seamlessly along with internal procedures and processes.
Scanning Technology
Whether you are entering inventory or assets, scanning technology that can be integrated within a CMMS is critical. Both bar-code technology and RFID scanners will drastically reduce human error, as well as increase the speed you can enter identifying information. A CMMS works only as well as the quality of its data. Scanning technology helps ensure the data is solid.
CMMS Software Average Costs and Pricing Models
The average cost of a CMMS will vary depending on your vendor and deployment selection. The number of employees that will be using the system and the features you want will affect the price as well. Typical pricing plans include:
Subscription Plan by User and Month
This pricing model is designed for smaller companies with fewer users. Companies are charged only for the actual number of team members who use the CMMS in a given month. These solutions are deployed through the cloud and allow easy mobile access for field technicians. The cost can vary widely based on the level of features needed or included in the subscription plan.
Subscription Plan by Month Only
Larger companies that require many users to access a CMMS may want to choose a subscription plan by month. Typically, a vendor will specify a maximum number of users and level of features. However, some unlimited user plans are available. Price range and configurations vary widely. Packages may specify number of sites, number of users, access to particular features, and so forth. Most packages are in the hundreds of dollars.
Perpetual Licensing Fee
Businesses that have a large number of users and require CMMS customizations may want to invest in a perpetual license. This is typically paid upfront, is significantly higher than subscription fees, and includes an unlimited number of sites and users. Future software upgrades, however, usually cost extra. Costs can reach well into the thousands for one-time licensing fees.
Key Takeaways
Today's CMMS solutions help a wide variety of companies in a multitude of industries provide efficient and effective maintenance services. Nearly a dozen major features as well as customizations are available. Whether you're a small manufacturing company, or a multi-site corporation, there's a CMMS available to fit your needs.
Take the time to research different pricing models and weigh the investment against the improved productivity, decreased downtime, and greater efficiency you can expect to gain from using a CMMS.