What are the best blogs to read for property managers?
In order to cut down the vast amount of accessible information, here are the top blogs for property managers today:
But what makes up the best blog for this specific group of people? It's not attention-grabbing headlines or small bites of content here and there. Rather, it's quality, meaningful content in a no-frills package. Here's the reason why we picked these blogs and a breakdown of what makes them great.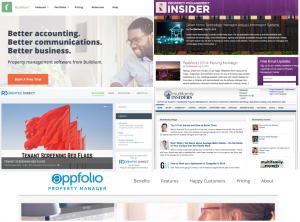 Why These Blogs?
Each of these blogs is specifically built for property managers to learn more about what they do, why people do what they do, and explore what others are doing today. Some of them offer communities, so that you can ask specific questions and others offer a selection of what people have looked for in the past.
Let's take a look at each one and see what they have to offer.
The Breakdown
Multifamily Insiders brings you specific answers to your specific questions, including the very simple answer "That doesn't work for this situation." A community of professionals with years of experience, you can expect to find practical solutions to very real problems, such as pit bull mixes and their legality in your units here.
Buildium takes a slightly different approach by sharing curated podcasts concerning subjects of general interest. In between the audio content, they offer blogs on various trends in the markets, ways to improve different processes, and more.
If you prefer a more traditional style of blog that offers simply written content, fairly regular scheduling, and a cleaner interface, Property Management Insider or AppFolio may be what you prefer. Both blogs offer email signups, so you can get content delivered to you on a semi-regular basis.
Finally, for those who really enjoy reading, RenTenc Direct delivers lots of useful content on a regular basis. While some people find this style of blogging tiresome and overwhelming, some people very much enjoy it.
Conclusion
As always, what blogs you read and how you further your knowledge skillset depends on you. However, these five blogs are a great start on answering pesky everyday questions and keeping up with the industry news.
Note: Ready to learn how to implement these suggestions and ideas, check out the Upkeep Learning Center for exactly how to do it!
Want to keep reading?
Good choice. Here are some similar articles!
What is Property Maintenance? | A Beginner's Guide by UpKeep
Property maintenance is the application of cleaning, safety checks, and repairs throughout residential buildings.
Why is preventive maintenance important for property managers?
In property maintenance, issues that build and build can end up being massively expensive, difficult to fix, and potentially dangerous for the tenants.
GET STARTED
Sign up for a personalized tour today.
Information is 100% secure.