Rehrig Pacific company saves more than a million dollars in one year
John Fini, National Reliability Manager, selected UpKeep for its intuitive interface, powerful capabilities, and excellent customer support.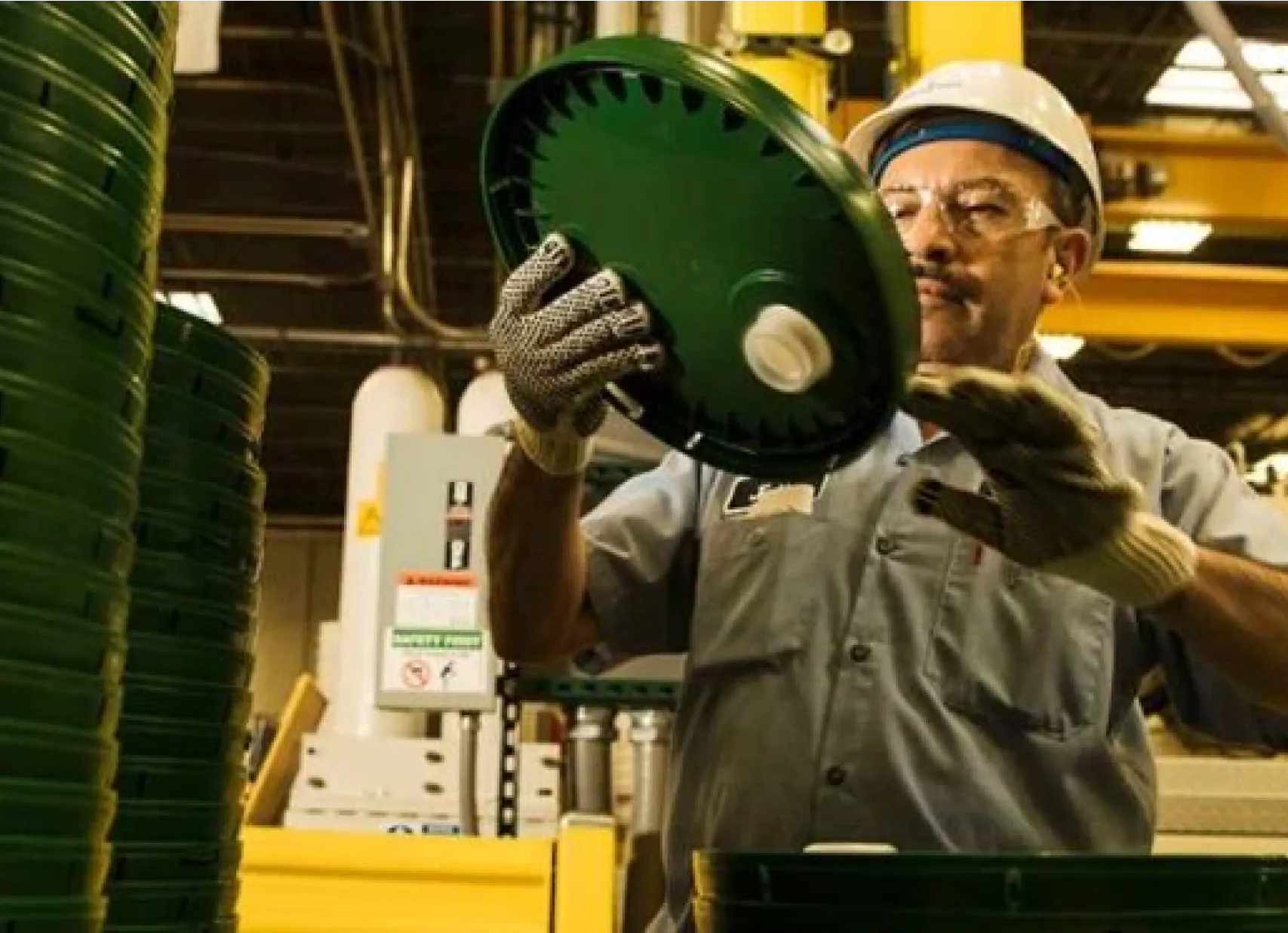 Company
Rehrig Pacific Company
Industry
Equipment / Manufacturing
Get the best maintenance advice, straight to your inbox.
Challenge
The company was operating seven manufacturing locations around the country, all which used equipment such as injection molding machines to produce various products. "We effectively had no inventory control program at the time," explained John Fini, National Reliability Manager at Rehrig Pacific. "Some plants would manage things manually on Excel, but that relied upon individuals taking the time to stop what they were doing to go back to the office and update a spreadsheet somewhere, which rarely occurred. Most of the time we were flying blind and depended on tribal knowledge to know what we had in the plant."
This resulted in a great deal of time wasted simply looking for parts and supplies, as well as being vulnerable to material shortages that could stop a production line. The company needed a proven inventory control system to manage its materials on a national scale.
Solution
With an extensive background in reliability-centered maintenance , John knew he needed to spearhead a new system that could not only improve inventory control, help cut costs, and improve overall efficiency but also provide the solid data that Rehrig Pacific needed to move competitively into the future.
John selected UpKeep for its intuitive interface, powerful capabilities, and excellent customer support.
After the first year of using the solution, Rehrig Pacific has effectively identified the opportunity to save more than 1 million dollars by reducing national inventory levels and expects to eliminate countless hours of wasted time.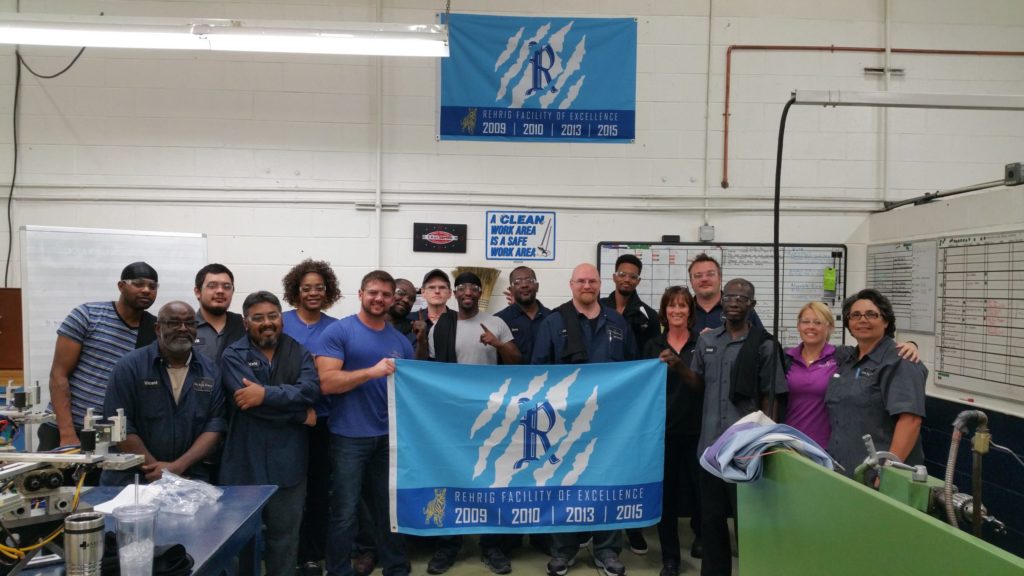 Easy Implementation
"I think the thing that I like about UpKeep the most is how intuitive it is for a
minimally trained user," John said. "The way that the system is structured; it's really easy to use whether you're on a mobile platform or on your desktop. It's one reason I selected it."
The company began with a beta test at its Kansas facility. Once that was completed, John began the national rollout.
"I broke the implementation into three specific phases: workflow management, inventory
control, and technician scheduling," explained John. "The workflow management piece took the plants a week to inventory all their assets. Then, I'd come in for a week, and we would get all of our data scrubbed, get everything like backlogs ready, and then do a mass upload. After that, I'd spend three or four days really focused on training, and I'd appoint a local champion to be the administrator of the system."
Not Just About Spare Parts
Although Rehrig Pacific's team appreciates having a better handle on spare parts, the advantages of Upkeep go beyond this simple benefit
"It's actually the fact that we have a database to measure against now," said John, who is well versed in reliability-based maintenance practices. "One standard KPI that measures the health of a computerized maintenance management system (CMMS) is by inventory accuracy percentage. That means you want to compare what your CMMS says you have versus what you actually have and calculate the deviation." Rehrig Pacific's team also knew there were other things they had to measure but couldn't before implementing UpKeep. "One example is preventive maintenance completion."
Rehrig Pacific's team also knew there were other things they had to measure but couldn't before implementing UpKeep. "One example is preventive maintenance completion," John said. "Did we complete the work that we said we would do? Another is a measure of the number of work requests that became actual work orders."
John explained that, initially, you should see many work requests coming in, which get converted to work orders . However, most of these will be reactive maintenance requests, and as the problem gets resolved, there should be a shift to recurring preventive maintenance work orders with a drop in the number of work requests. That's the goal in the long term.

Creating an Internal Walmart
Once UpKeep was implemented and Rehrig Pacific started more accurately collecting data, the company discovered it had nearly twice as much untracked inventory as it originally thought it had. Since several expensive parts had a long ordering lead time and it wasn't always clear when an asset might fail, it was critical to better manage existing inventory that was scattered around the company's seven plants.
""So far, we have discovered this overage of inventory for two types of machines," John explained. "It was literally the difference between $1.4 million in parts versus $500,000 or having seven of something instead of two. We still have four more machine types to assess." With an accurate count in UpKeep, the company can now provide specific counts of parts to all plants nationwide.
"It means we make much more cost-effective decisions," John said. "For example, let's say our Kansas plant loses a pump. Their maintenance manager can see that we have that pump in the Florida plant inventory. That means they don't have an exorbitant expense of buying another pump, and we bring our own inventory down for the company as a whole. We've basically created an internal Walmart for Rehrig Pacific."
Future Focus
Currently, John is working with the UpKeep team to develop a solution that will allow Rehrig Pacific to integrate scalable mandatory feedback and work order triggers.
"I'm focused on long-term accountability," John explained. "I want to ensure that we're doing the work that we say we're doing. Right now, someone could just close out a work order and say they completed it. Finding a way to verify the work actually got done will hopefully help us reduce our reactive downtime even further in the long run."
Want to keep reading?
Good choice. We have more articles about maintenance!
4000+ Companies rely on asset operations management
Leading the Way to a Better Future for Maintenance and Reliability
Your asset and equipment data doesn't belong in a silo. UpKeep makes it simple to see where everything stands, all in one place. That means less guesswork and more time to focus on what matters.