Certarus realizes $500k per year in cost savings
Since integrating UpKeep's solution, Certarus has realized significant cost and time savings as well as enormous gains in efficiency.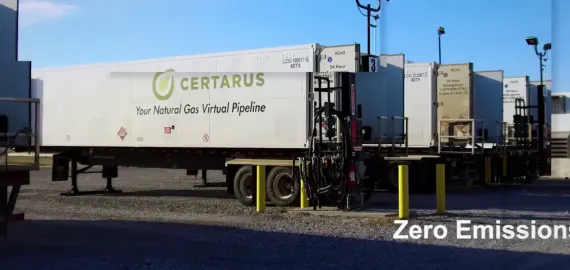 Industry
Equipment / Manufacturing
Get the best maintenance advice, straight to your inbox.
Challenge
Since all of Certarus' maintenance assets are mobile, it was difficult for the company to keep track of where all its trucks and trailers were located when they required maintenance or repairs. Although UpKeep was a big part of the solution, Certarus needed to find a way to track its fleet as well as integrate other technology into its overall maintenance system.
Solution
The company researched different software solutions and chose to select what it considered the best performers for each of its requirements and then conducted multiple integrations.
"Some companies may choose a technology solution that offers mediocre, but integrated, maintenance and fleet tracking capabilities," said Chi Fang, Manager of Technology & Business Process at Certarus. "We took the opposite approach; we wanted the best tool for each job, period. We think UpKeep is the best CMMS system for mobile assets out there. We think Samsara is the best fleet tracking system and driver safety system out there. We wanted to take advantage of all their merits and simply build a bridge that connects them. I think in the modern age of high quality SAAS solutions and API integrations, that's easier than ever."
Prioritizing Needs During Selection Process
The Certarus management team started the process by coming up with a list of priorities for its maintenance solution and then selected about 15 to 20 potential packages.
"I think you have to look at your five to 10 main criteria and weigh them in terms of importance," Chi said. "That will be different for every company, but for us, we were really focused on a good user experience for our people in the field."
The company gave some trial seats to various team members in the field to evaluate, and then collected the feedback in an overall chart. This allowed Certarus to narrow the options down to the top two finalists.
"We were all sitting in the boardroom ready to make our final choice," explained Kyle Dunbar, Fleet Maintenance Manager at Certarus. "One of the other participants suggested that he create a work order in UpKeep while I used the other program to do the same. By the time he had created and closed a work order, I was only one-third of the way through mine. For us, it came down to ease of use–and UpKeep clearly came out on top."
Integrating CMMS With Fleet Tracking
Since Certarus operates a mobile fleet across North America, it was very difficult for the company to know the specific location of a piece of equipment as well as have an associated work order go to the right location.
"Before we integrated UpKeep and Samsara, we were manually looking at our GPS system and updating UpKeep for the location of every piece of equipment and all the work orders," Kyle said. "It took two or three days per week to go through all of that."
Samsara is an internet-connected sensors company that services both fleet and industrial applications. "For Certarus, we're doing everything from providing real-time, up-to-the-second GPS locations, pulling diagnostics through our devices, and sending a lot of this information over to UpKeep," explained Blake McMillan, Samsara product specialist.
"After the integrations, we had real-time data," Kyle added. "The system updates locations, which then allows the regions to know what they need to be prioritizing."
The team set up geofences in the Samsara system and mirrored those to facility locations in UpKeep. "Effectively, Samsara is our source of truth for geolocation," Chi said. "Our entire list of vehicles and trailers appear in both UpKeep and Samsara using the same identifiers. We basically wrote a program that says 'if an asset changes from one geofence to another, then change the facility location accordingly in UpKeep.' That program is updating every few minutes, so we have nearly real-time data in terms of where our equipment is moving."
In addition, Samsara and UpKeep are integrated in terms of vehicle mileage sensors as well so that work orders can be created at pre-determined mileage markers. "This is a much more efficient way to track preventive maintenance needs as opposed to a time-based program," Chi said.
Reporting and SCADA Integrations Add to Functionality
In addition to the successful integration with Samsara, Certarus has also integrated UpKeep with Microsoft Power BI and SCADA.
"We're really trying to leverage the data we have in UpKeep, and one of our other initiatives is that we've extracted that data via the API and put it into Microsoft Power BI, which is our company-wide reporting solution," Chi explained. "We have an interactive dashboard that provides us with this overarching view of our fleet. This allows us to see what proportion of our fleet is out of service, what proportion is under maintenance, and what proportion is actually available to be deployed for work."
In addition, team members can select specific regions or pieces of equipment to obtain more details without switching back to UpKeep. "It has been extremely beneficial for our operations and logistics teams because they're making day-to-day decisions based on what equipment is available," Chi added. "It also gives a good view of fleet health and how our maintenance program is tracking."
Certarus also uses a SCADA system to monitor about 200 data points from each piece of equipment. By integrating SCADA with UpKeep, the company can create work orders from these data points.
"For example, we can now say that when one of our gas compressors hits a certain threshold of hours, the system should automatically create a maintenance work order," Chi said. "However, we can now get in there deeper and use formulas to say 'if this pressure data point is spiking while this temperature data point is dropping, we might have a problem with this part.' That reasoning can trigger a specific work order that has a potential diagnosis included. We're really excited about the potential that holds."
Experiencing Time, Cost, and Efficiency Benefits
By selecting and integrating the best solutions, Certarus has realized significant cost and time savings as well as enormous gains in efficiency.
"Since we have real-time data, we're able to hold our team more accountable for work orders to be completed on-time," Kyle said. "We've saved so much time because we no longer need to figure out where equipment is located. Our people really like having that visibility to know where they are at during any given time."
Furthermore, the integrated system has allowed the company to better allocate its resources. Certarus can now get to work orders faster, take an automated approach to preventive maintenance, and increase the utilization of its equipment.
"That all trickles down to dollars and cents at the end of the day," Chi said. "Our integrations cost us a little more than $10,000 to build, and they could potentially help us save up to $500,000 per year in the long-run. That's a 50-fold per year return on investment, which is incredible by any measure."
Want to keep reading?
Good choice. We have more articles about maintenance!
4000+ Companies rely on asset operations management
Leading the Way to a Better Future for Maintenance and Reliability
Your asset and equipment data doesn't belong in a silo. UpKeep makes it simple to see where everything stands, all in one place. That means less guesswork and more time to focus on what matters.